Content Marketing World is one of the largest, if not the largest, content marketing conferences in the world. Robert Rose and the team at CMI and UBM do an amazing job of putting on this show each year in Cleveland. Getting the most out of the show requires some advance preparation. For first-timers (and forgetful repeat attendees), here are a few suggestions to enhance your CMW experience.
1. Stay hydrated. While Cleveland is in relatively temperate Ohio, the Huntington Convention Center is still desert-like inside due to air conditioning. You won't notice you're dehydrated because you'll think it's nice and cool. Drink water copiously. As the US Army expression goes, if you don't have to use the restroom frequently, you haven't had enough water. Consider bringing or buying a reusable water bottle on site.
2. Bring COMFORTABLE SHOES. You will be walking a TON. See this picture?
This is the Huntington Convention Center. Though deceptive from the surface, inside is 140,000 square feet of conference space. Walking to and from sessions, hotels, the works – you'll be putting a lot of strain on your feet.
3. Bring a portable power strip and power banks. Outlets aren't always nearby and you will burn down your phone battery being social. I'm partial to the Anker 20,000 maH power brick. It weighs as much as a small brick but will keep a tablet and smartphone charged all day. I also carry a  Tessan power strip, which I love. It's a friend-maker – bring it out and make friends.
Be aware that some devices may be restricted if you're traveling from overseas due to various travel bans, so check in advance.
Also, don't forget your device cables. Bring 2 of each.
4. Arrive with a BURNING question that you ask everyone you meet. What one question MUST you get answered in order for the conference to be worth it? If you don't have a burning question, you'll enjoy the show but you won't get the most out of it.
5. Plan your sessions in advance. Got that burning question handy? Install the app!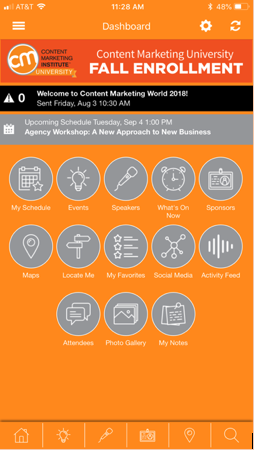 Use the event planner to start and be sure to add key sessions to your calendar using the handy add to calendar feature.
6. Party responsibly. If we speakers are doing our jobs right, your brains should really hurt by the end of the event. You want to get the most out of the event, so pace yourself when it comes to entertainment options. That business-changing insight you've got a burning question about may happen on the last day of the event, and you want to be sober enough and awake enough to catch it.
7. Bring earplugs. I always travel with ballistic earplugs. They're great for reducing that screaming baby on the airplane to a dull roar, and priceless for major events like CMW. Loud convention centers and concerts and parties are awesome… for a short while. Enough loud noise will tire you out. Bring a bottle of earplugs and you will end up much less fatigued. If you plan to attend any of the major parties or go out to eat at the local restaurants, you'll want earplugs in your kit.
8. Bring business cards. Lots of business cards. CMW will host upwards of 4,000 physical attendees this year.
9. Bring space. As in, pack lightly so you have room for all the fun stuff the various exhibitors have to offer. The people at the office or at home love a good souvenir.
10. Bring a day pack/bag. There will be times you won't want to lug around heavy luggage or a full laptop case. A small messenger bag will fit the bill perfectly. I'm personally a fan of the Osprey Nano, but any small bag or pack will do.
11. Bring healthcare preventative measures. As stated above, CMW attracts upwards of 4,000 physical attendees who eat together, stay in the hotels, party together, shake hands, and share the same air, water, and physical proximity. Bring hand sanitizer packs, wash your hands frequently, and consider purchasing an NIOSH-approved N99 face mask, especially if you're arriving by airplane or other form of mass transit. Consult your physician/qualified medical practitioner about taking a multivitamin and/or other immune-boosting supplements.
12. Participate in pre-show activities. Content Marketing World offers great pre-event activities like Twitter chats and networking in the app, which gives people a chance to meet, ask questions, and discuss favorite topics well in advance of the show. By the time we all arrive in Cleveland, we'll have our tribe.
Carmen Hill added the following commentary:
Chris, these are GREAT tips! This will be my 7th #CMWorld, and I'm still bookmarking this for reference—I especially like #4—and making note of your recommendations for power strips and earplugs. A few additional notes:
#1. Yes, bring/buy a reusable water bottle. #CMWorld is going green this year!
#3. If you forget (or don't want the extra weight of a power strip), get to sessions early enough for a seat near the front. They usually have power.
#9. I always bring a tote bag that folds up and fits in an outside suitcase pocket to carry home books, t-shirts, swag, etc.
#11. Counter Attack is the best immune booster I've ever, ever used. Already hoarding for cold/flu season!
#12. Couldn't agree more—don't be shy. #CMWorld attendees are the best, friendliest, most generous people you could ever meet.
Also:
– Don't wait till you're packing for the return flight to look through the sponsors and swag bag. Make a list and make a point to visit the ones that are relevant to you. Plus, a lot of sponsors have prize drawings… stop by and drop your card!
– Bring a sweater or other stuffable long sleeves for chilly conference rooms. And a small lightweight, travel umbrella.
– I also like to bring a bag of almonds or other healthy-ish snack. There's food everywhere, but it tends to be carb-heavy and/or sweet.
See you next week!
Disclosure: All links to Amazon in this post are affiliate links. Trust Insights earn a small but non-zero fee if you buy something.
---
| | |
| --- | --- |
| Need help with your marketing data and analytics? | You might also enjoy: |
| Get unique data, analysis, and perspectives on analytics, insights, machine learning, marketing, and AI in the weekly Trust Insights newsletter, Data in the Headlights. Subscribe now for free; new issues every Wednesday! | Want to learn more about data, analytics, and insights? Subscribe to In-Ear Insights, the Trust Insights podcast, with new 10-minute or less episodes every week. |